The first male elephant seals to return to Año Nuevo for the breeding season typically arrive in very late November. It is a long journey involving thousands of miles and will take about six weeks for a male foraging in the Bering Sea, so they are well on their way back as you read this.  Both males and females demonstrate an amazing ability to navigate through the seemingly featureless open ocean, but how they accomplish such long-distance migrations remains a mystery. However, we have learned a lot about their travels over the past 20+ years since researchers at the UC Santa Cruz began tracking the elephant seals to and from Año Nuevo State Park.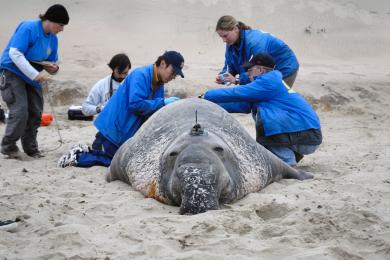 Technological advances resulting in lighter and more sophisticated devices have made it possible for researchers to use satellite tracking technology to follow elephant seals as they migrate across the Pacific Ocean. The researchers attach a special piece of tracking equipment called a PTT (platform terminal transmitter) to the elephant seal. Each time the elephant seal surfaces the device sends a message to a satellite with the current location.
These satellite tags not only tell us where the seals go, but also how fast they travel and where they spend most of their time.  Seals can also be fitted with time-depth recorders which let us know how deep they dive, how long they stay under water and where they are foraging for food successfully.
Researchers are increasingly able to analyze their data to understand changes that occur from year to year, and how changes such as El Niño or La Niña, noise pollution and changes in ocean temperature are affecting their behavior. Furthermore, because elephant seals migrate through a significant portion of the North Pacific Ocean, they are now utilized to collect oceanographic data such as water temperature, salinity and the level of pollution. These data may help researchers better understand the ocean environment and the potential impact of climate change.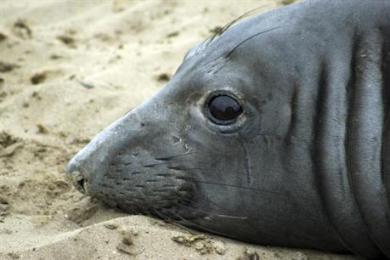 In the fall of 2016, UCSC researchers announced that a female elephant seal, they named Phyllis Sooy to honor a late newspaper reporter and philanthropist, is on the brink of setting an all-time record for her 2016 foraging journey. The 853-pound mother of two is expected to complete her 7,400 mile round trip in January when she arrives back at Año Nuevo! This can be compared to the average roundtrip for a female of 2,000 miles. You may follow her progress online.
The elephant seal research project is conducted by Professor Dan Costa's lab at UC Santa Cruz. Año Nuevo is both a State Park and a part of the University of California Natural Reserve system, a unique partnership that allows long-term research on the elephant seals. Last year, researchers working at Año Nuevo published over 30 peer-reviewed scientific papers making Año Nuevo a research hotspot.
So how can you see the elephant seals during the breeding season?
Año Nuevo Tours:
The 90 minute public guided tours available during the Año Nuevo breeding season begin on December 15 and continue through the end of March. Advance reservations are recommended, and are available 8 weeks in advance. You can purchase your tickets through Reserve California.
For Extended Viewing:
Each year, in January, Coastside State Parks Association and California State Parks hosts their annual Seal Adventures event that raises funds to support education, interpretation, and projects at fifteen state parks and beaches on the San Mateo County coast. There are two viewing sessions each day. The morning session runs from 8:30 to noon, and the afternoon session from 1:30 to 5:00, allowing time to observe the Elephant Seals without the constant need to move with the group as with the daily tours. Tickets are limited to 100 for each session to ensure an uncrowded experience.
In addition, researchers from UCSC will be available in the field and in the education center to discuss their ongoing research and to answer questions.
This event has sold out in advance every year so be sure to sign up for our announcement for the next event. Please don't wait to secure your tickets.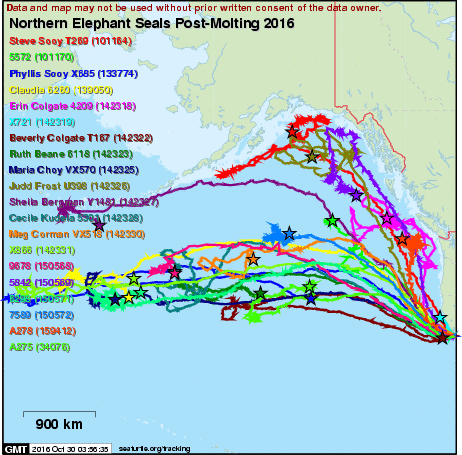 Here is a map of where some of Año Nuevo's elephant seals are in early November this year (2016).
You can view online the real-time progress of tagged seals as they approach Año Nuevo. While you are on the same seaturtle.org website, you can also track sharks, sea turtles and many sea-going birds around the planet.
Many thanks go to the research teams at University of California Santa Cruz.
They are training the next generation of scientists by bringing out undergraduates to assist with research activities. We look forward to seeing them at the point.
They are always willing to share their knowledge with the docents to continue to improve the visitor's experience with the most up to date findings.
Photographs and images are used with permission. This information comes from both UCSC Research material and the Año Nuevo Docent Training Manual.