Because of its proximity to the ocean, Montara Mountain has a maritime climate that sometimes includes dense fog and strong wind. This cool marine layer results in an abundance of wildflowers well into May and June, when inland parks have turned dry and the flowers have disappeared. This unique ecology includes plants that are only found in this area.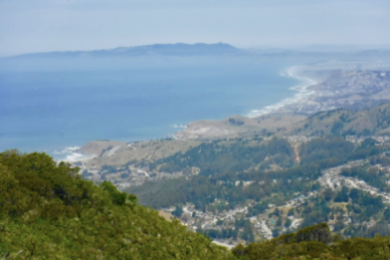 Before hiking to the summit be sure to check the weather forecast. A sunny and clear day is perfect. 
From the summit you can see Mount Tamalpais and the towers of the Golden Gate Bridge to the north; San Francisco Bay and Mount Diablo to the east; Pillar Point and the Santa Cruz Mountains to the south; and the Pacific Ocean to the west. On exceptionally clear days you can sometimes see the Farallon Islands on the horizon. 
There are several trailheads you can use to hike to the summit. On the east side of Highway 1 you can park in a large parking lot that is also used to access Gray Whale Cove. This parking lot is in McNee Ranch State Park south of the Highway 1 tunnel that bypasses Devil's Slide. Arrive early on sunny weekends, because this parking lot fills up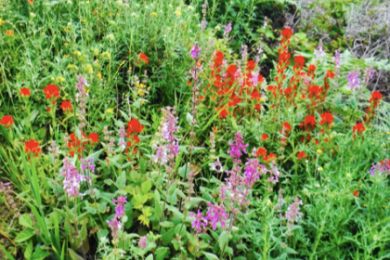 From there take the Gray Whale Cove Trail, with spectacular coastal views and then turn left and head uphill on the Old San Pedro Mountain Road, which merges with the North Peak Access Road. Continue uphill until you reach the summit. This is not an easy hike! The total distance is 9.9 miles and combined elevation gain and loss of 1,758 feet. 
The Old San Pedro Mountain Road was built in 1915 by the county. It was then called Coastside Boulevard and served as the main road between San Francisco and Half Moon Bay. In 1937, Highway 1 along Devil's Slide opened and the Old San Pedro Mountain Road was closed to traffic. Now it is a hiking trail.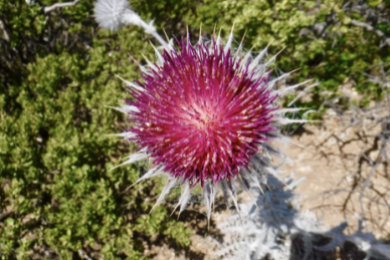 You can also access Montara Mountain from San Pedro Valley County Park, on the east side of the mountain. From the parking lot near the park headquarters, head uphill on the Montara Mountain Trail. This route will take you out of the county park and into McNee Ranch State Park. Turn left at Montara Mountain Road and continue uphill to the summit. There are many picturesque views along the way. On the way back down you can take the Brooks Creek Trail for a different view of the county park. This route is 7.1 miles round trip and involves a total elevation gain and loss of 1,720 feet. Note that San Pedro Valley Park has an entrance fee. 
Both of these routes are rather strenuous. Wear sturdy hiking shoes, and bring water and sun protection. There isn't much shade along the way, and be sure to watch out for poison oak.