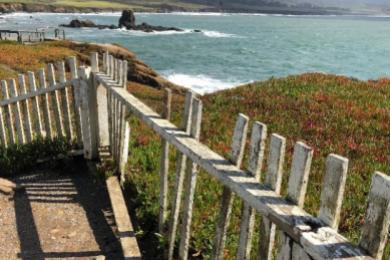 The project brings together a number of partners to brighten up the park and improve visitor safety. Big Creek Lumber has donated all of the lumber, all redwood. The Park Champions program, of the California State Parks Foundation, is coordinating the labor.  Coastside State Parks Association (CSPA) is funding the non-lumber materials like paint, concrete, and tools.
Work started at Año Nuevo State Park--cutting the picket slats into 3-foot lengths, notching the fence posts for the cross beams, and priming and painting all the lumber—due to space constraints at Pigeon Point. Some minor trail realignment is also being done because of erosion.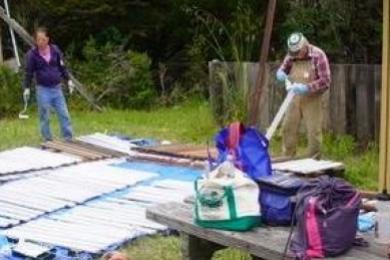 Several more days will be needed to finish the priming and painting before the project moves to Pigeon Point for demolition of old fence and construction of the new fence. To sign up for these work parties, check out the Park Champions website mentioned below and look for Año Nuevo and Pigeon Point under July and August.
Volunteers must be registered with Park Champions at http://www.calparks.org/help/park-champions/. Find the appropriate calendar page and click on the Año Nuevo or Pigeon Point entry.
Huge thanks to Big Creek Lumber, Rice Soil Farm and the Park Champions for making this happen, and thank you to CSPA donors and supporters.