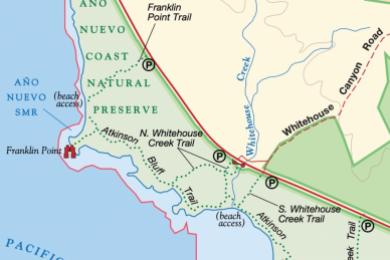 The numerous attractions in the park's southeast area, through the park's main entrance off Hwy 1, are surely familiar to many of our readers. Familiar, too, may be the beach access at the Gazos Creek Day-Use Area, which lies four and a half road-miles northwest. It was the seldom-visited miles of trails weaving along the rugged shoreline between these areas that beckoned.
A trip here in April or May would surely promise a variety of wildflowers in their splendor. Other times of year may feature sightings of California gray whales, Steller sea lions, sea otters, and other, more common marine and land mammals.
Some rare and protected land animals make their home here as well, such as the San Francisco garter snake. And, of course, there is a multitude of resident or migrating birds to be seen at various times of the year; the park brochure lists 35 species. However, while late January is a low season for many of these attractions, it is high season for the animal for which the park is most famous: the northern elephant seal.
This day's hiking covered the Atkinson Bluff Trail between Cascade Creek and Franklin Point in two, moderate segments that started within a short distance of each other. (Taking a break between the segments permitted a leisurely lunch at a nearby restaurant.) The first, southeastern segment was an out-and-back of 2.2 miles along the South Whitehouse Creek and Atkinson Bluff Trails beginning at the trailhead's parking lot on Hwy 1 at its intersection with Whitehouse Canyon Road. The second, northwestern segment started nearby at the North Whitehouse Creek Trailhead and was an out-and-back of 2.6 miles past Smugglers' Cove to Franklin Point. All trails were predominantly flat, although two or three short climbs and descents on sand dunes occurred near Franklin Point.
The first point of interest was the overlook where Whitehouse Creek enters the sea. At the bottom of a stairway to the small beach was a sign warning visitors to give elephant seals a wide berth. What, seals here? Miles from their rookery? A quick look around didn't detect any. But stepping off the bottom stair elicited a grumpy snort and a raised head from what was first taken to be a nearby mound of sand. Time to retreat and leave the beach to him.
Further along, a second male elephant seal could not be missed, as he was the lone feature on a half mile of flat, sandy beach. A "V" of fifty or so pelicans flew overhead, and a great blue heron stood majestically still in shallow water while waiting patiently for lunch to swim or crawl within reach. The trail ends at Cascade Creek, which forms the boundary of the natural preserve's restricted area. Just short of the creek is an inviting spot for hikers to sit on a downed tree trunk and enjoy the lunch they brought with them.
The second segment begins at the North Whitehouse Creek Trail's parking lot, which is just 250 yards northwest on Hwy 1 from where the first segment started. Take the left-hand trail at the fork just steps from the parking area. Once near the shoreline, pass a bench and follow the trail west to Smuggler's Cove and beyond to Franklin Point.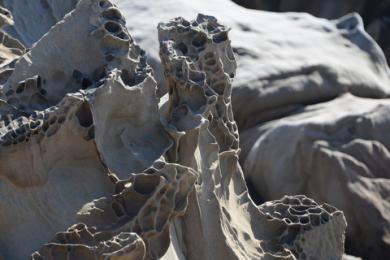 The shoreline on this segment is rockier and more dramatic. In particular, look for tafoni in the sandstone. These sculpted, often delicate and intricate designs in the rock are formed by a complex mixture of mechanical and chemical erosion.
The trail as it approaches Franklin Point has been re-routed, from what appears on the map, around a portion of trail that is now closed off, probably to counter erosion of the sand dunes. Ropes on either side guide you on the path, which now drops you onto the beach east and a little north of the point. Turn left on the beach and skirt around—or if necessary, climb over—rocks that the waves may reach, depending on the tide. Eventually you will come upon a boardwalk, in a draw on your left, that begins with a short stairway. Take the boardwalk out to its terminus at a platform with benches.
Stop at different points on the boardwalk to admire the views. In clear weather, you will see Pigeon Point Lighthouse roughly three miles to the northwest and Año Nuevo Island approximately the same distance south-southeast. Sighting the abandoned lightkeeper's house on the island is the surest way to identify the island.
To return to your car, retrace your steps to the trail junction just short of Smuggler's Cove. Take the left-hand fork for the shortest route back.
Logistics:
The official Año Nuevo SP brochure with map can be downloaded here.
A trail map handout is also available at Año Nuevo SP's main entry's gatehouse. No water and no restrooms are available on the trails or at the parking areas. Mobile phone service in the area is poor to nonexistent.
Wear shoes suitable for sand, mud, and shallow puddles.
Bringing binoculars is recommended if you have a pair.
The locations of trailhead parking areas along Hwy-1 are:
Franklin Point Trail - GPS: 37.155826,-122.354630 at grove of trees & "trail crossing" sign
N. Whitehouse Creek Trail - GPS: 37.148827,-122.346823 opposite Costanoa's driveway entrance
S. Whitehouse Creek Trail - GPS: 37.148190,-122.344283 intersection with Whitehouse Canyon Rd
Cascade Creek Trail - GPS: 37.145588,-122.336438 opposite roadside emergency "call box"