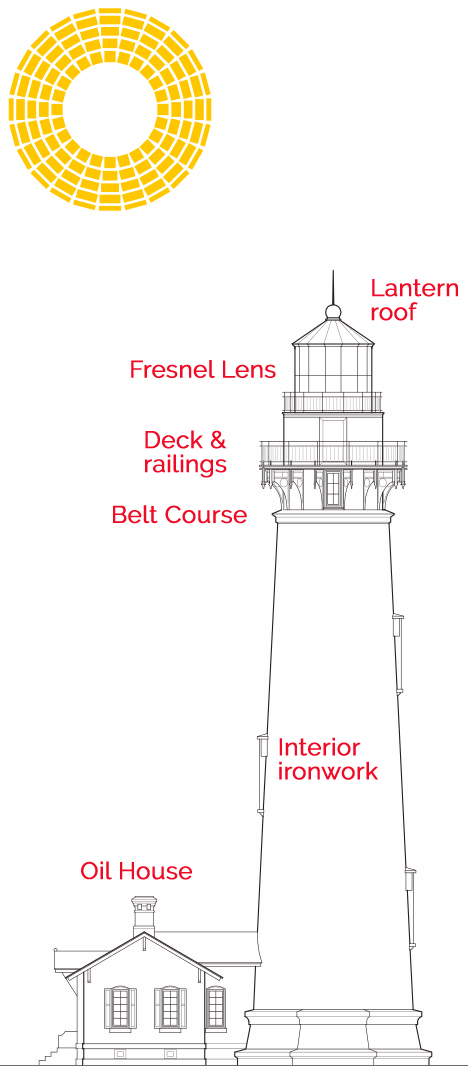 Light up the Future!
The Campaign to Save Pigeon Point Lighthouse
The lantern roof will be repaired and repainted; the copper ventilation ball on top will be cleaned and repainted.  The glass curtain walls of the lantern room will be repaired and resealed, and the metal elements will be repainted.
The Fresnel lens, with its 1,008 delicate glass elements, was removed from the tower in 2011 and is now on display in the Fog Signal Building.  Once rehabilitation  is complete, it will return to the top of the tower.
Upper Tower Deck and Railings: The corroded deck elements and railings will be removed and replaced to match the original cast iron details.
Upper Tower Belt Course: Continuing corrosion of cast iron elements on the upper belt course make repair of the upper tower the most critical portion of the project.  Cast iron and masonry elements will be restored or replaced based on condition, and seismic reinforcing will be added.
Interior Ironwork, windows, and corroded cast iron elements at the base of the tower will be repaired or replaced as needed.  Layers of old paint coatings will be removed and a new paint system will be applied to protect the building from the extreme maritime environment.
Oil House walls and chimneys will be seismically strengthened, and deteriorated building materials will be repaired or replaced.
Your Donation today will help us continue this work.