In addition to rebuilding the bridge, the plan included raising the superstructure to increase channel flow, to improve drainage and to address a hard transition on the down-hill approach.
The Butano campground is closed December through March, so this winter was an ideal time to work on the bridge.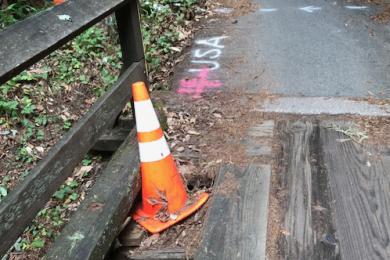 Work included removing all decking, handrails and posts, then lifting the rail car superstructure to attach 10" tall, steel supports to concrete abutments. Finally, the rail car was lowered and the new supports were welded to the superstructure.  Afterward, new decking, wheel runners and curbs, posts and handrails were installed to complete the job.
No sooner had the decking been removed and the superstructure elevated, a statewide shelter in place order in response to the COVID-19 pandemic threatened delays. However, work continued as this infrastructure upgrade was considered an essential project.
Thanks very much to you, the Coastside State Park Donors, for your support over the past years. Your generosity allowed us to invest in this upgraded bridge and be ready to open the park when the shelter in place is lifted.
Thank you, also, to the Santa Cruz District Roads and Trails crew for doing such an excellent and beautiful job.