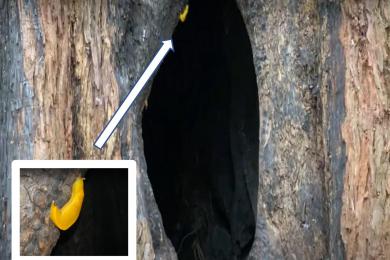 Butano offers hiking and picnicking, with environments ranging from riverine wetlands along Little Butano Creek to ridgetop views of the ocean. If you walk in the mixed redwood - Douglas fir forest, you'll hear the warning chatter of birds and you will see the near-fluorescent yellow banana slugs foraging for debris. Be sure to bring your own drinking water, as the post-fire water system is not yet restored.
Some treats that the park offers:
Visitor Center:   Engaging displays and interactive exhibits will enhance your appreciation of the park's history, flora and fauna. There's even a forest-at-night exhibit. The Center is by the entrance kiosk.
Bat habitat:   You'll find the cylindrical shelter on a post, just 600 feet from the entry kiosk, along the Six Bridges Trail.
Forest:   The redwood-Douglas fir forest has both old- and second-growth trees. Carpets of sorrel (looks like shamrocks) can be found, as well as alder and manzanita as you proceed.
Banana slugs:   These curious creatures have a large breathing pore only on their right side, can expand 100 times by absorbing moisture, are both male and female at the same time (hermaphroditic), mate in a ying-yang position, and have many other unusual qualities.
Hiking:   It's easy to take a pleasant one to three mile out-and-back hike along Little Butano Creek. For more of a challenge, take the loop beginning with the steep Año Nuevo Trail and continue counterclockwise along Goat Hill Trail and return on Six Bridges Trail. It's a five mile hike, and the strenuous part is nearly all at the beginning. Maps are at the entrance kiosk.
Wildlife:   The park is rich with wildlife. Mammals include gophers, moles, and mice (all of which are prey for gopher snakes), bobcats, raccoons, and bats. Birds include water land-loving thrushes, grosbeaks, warblers, and canyon-grassland resident chickadees, wrens, towhees, sparrows, and California quail. Ridgetops reveal hummingbirds, owls, and  soaring hawks.
Fire recovery:   The CZU Lightning Complex Fire of August, 2020, while devastating in other locations, is considered a "healthy burn" within Butano State Park. Significant parts of the currently open trails are untouched. The fire did not scorch the ground with high intensity and it cleared forest undergrowth, permitting new vegetation to spring forth. The redwoods showed their typical resilience to fire. The most-burned trees are already covered in green sprouts.
Butano Trail Volunteers
Trail volunteers are critical to maintaining the park's beauty and utility, and restoring access where fire damage occurred. For example, in July, former ranger and volunteer, Michael Grant, reports that volunteers spent hundreds of hours in the campgrounds, assisted by scouts and parents from Rocklin, CA, removing fallen branches and trees from campsites, moving firewood, and creating buffer zones for safe campsite fires once the sites reopen. They also cleaned 38 picnic tables and 38 campsites.
Over the next year, prior to reopening the campgrounds, volunteers will continue their work. They will cut downed branches, create and shape both firewood and burn piles, and reserve some work for when Marbled Murrelet noise restrictions are lifted. 
If you're interested in helping Butano's volunteer trail crew, please contact the park directly (see below).
Coastside State Parks Association has contributed to funding of a bridge and provides the volunteers with rakes, chainsaws, batteries and other supplies. We stand ready to support and fund other projects that improve the environmental health and visitor experience in Butano State Park. 
We encourage you to enjoy the wonders of the park any time of the year.
Logistics
To get there:  (Enter "1500 Cloverdale Rd, Pescadero" on your mapping app.)
●  11 min. from the Hwy 1 Pescadero turnoff: Proceed 2.3 miles on Pescadero Rd. and turn right on Cloverdale Road. Continue 4.5 miles to the park entrance on the left.
●  5 min. from the Hwy 1 Gazos Creek turnoff: Proceed 2.2 miles on Gazos Creek Rd. and turn left on Cloverdale Road. Continue 2.4 miles to the park entrance on the left.
Open now: Parking, Picnic area, Interpretive programs, Visitor Center, Select restrooms (pit toilets only). Connected segments of the following trails: Año Nuevo, Six Bridges, Jackson Flats, Butano Fire Road, Mill Ox, Olmo Fire Road, Goat Hill, Ben Ries
Currently closed: Drinking fountains and water faucets, Campgrounds, all other trails. (More trail segments may be open – Visit https://www.parks.ca.gov/?page_id=536)
Particulars: Bring water, as drinking fountains and water faucets are currently closed. Office: (650) 879-2040, Hours: Sunrise to sunset. Dogs allowed in paved areas.