Ships like the Point Arena combined the seaworthiness of sailing schooners with the modern technology of a marine steam engine. Popular because they steered easily in small harbors, they required few crew members and were economical to maintain. In fact, they were the equivalent of today's trucks.
The Point Arena survived two mishaps. In 1904 she ran aground at Point Reyes, and again later farther north along the lumber coast. Both times she was towed to safety into San Francisco and repaired.
However, her fate was sealed on August 9, 1913. Here is how JoAnn Semones described it.
"While loading her usual cargo of tanbark destined for San Francisco, the schooner fouled a mooring line on her propeller. Although Capt. Halvorsen "tried to maneuver the vessel out" to deeper water, the wind caught her stern. The defenseless ship lurched violently, slamming broadside into the rocks. Lifting and falling with the breakers, she tore a hole amidships.
"As the sea foamed over the deck, the captain ordered his eighteen-man crew to abandon ship. The stunned seamen could only watch as the Point Arena sank into the churning water. A surge of surf lifted her into the air and dropped her back down, impaling the worn schooner on the rocks. Mercilessly, heavy waves crashed through the stricken vessel, sending a geyser of seawater high above the mast."
The broken ship was burned as a potential hazard to navigation. Also, it wouldn't have looked good to have a wrecked ship in front of the lighthouse.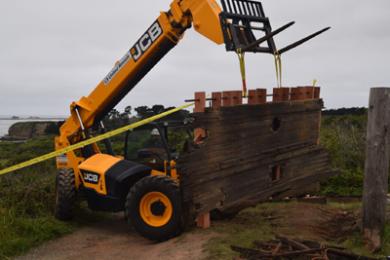 A section of the Point Arena's starboard bow washed into the mouth of Greenoaks Creek near Año Nuevo Point, where it lay buried by sand for nearly seventy years. Fierce winter storms in 1983 exposed the five-ton fragment that still bore the ship's name. For many years it has been on display at Año Nuevo State Park.
The trails at Año Nuevo were realigned in 2016 and the Point Arena shipwreck would have been left standing in a field. It was time to move it and so plans were made to relocate it to Pigeon Point Light Station State Historic Park as a visual reminder of the history of shipwrecks in this area.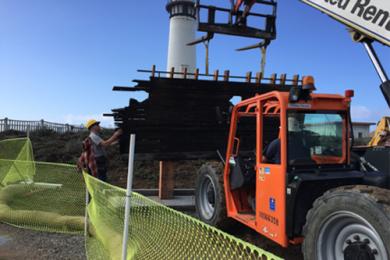 The hull piece was crated and moved from the Año Nuevo trail during the summer of 2016. On November 1st it was installed at Pigeon Point in time for the Anniversary celebration on November 12. Please be sure to come to the light station and see the newly installed Point Arena exhibit.
This Information and these quotes come generously from Shipwrecks, Scalawags, and Scavengers by JoAnn Semones.