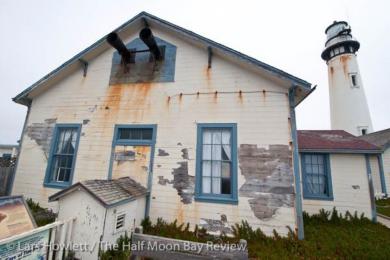 Meanwhile, the conditions of the tower and some historic buildings had deteriorated for lack of federal upkeep (see photo left). After title was transferred, State Parks, with its limited funds, repaired and painted to arrest further decay.
By direction of California State Parks, the campaign to raise the millions of dollars needed to restore the light tower was given to the state-wide nonprofit, California State Parks Foundation. We (CSPA), a local nonprofit, have undertaken what tasks we can within our much smaller budget to help restore three other historic structures: the Oil Bunker, the Carpenter's Shop, and the Fog Signal Building (FSB).
Today the FSB houses displays to acquaint visitors with the light station's history. Chief among the displays is the Fresnel lens, which has been temporarily removed from the top of the tower.
There are three other efforts besides the project to restore the building itself.
One is to replace worn and/or outdated interpretive displays, which cover local history and resident wildlife. CSPA is working on this project this summer (2017) and new panels will be installed early October after production of the panels is completed.
Another is to restore the fog horns.. While that, unfortunately, is a project slipping into the future, the salt air continues its work of destruction. CSPA plans to seek grant money for their restoration.
The third effort is to remove the existing observation deck between the building and the shoreline and to construct a larger deck, complete with permanent telescopes for wildlife viewing and, as needed, new interpretive signs. This effort—whose funding is already approved in CSPA's budget—now won't begin until after the hostel relocates its hot tub, which now adjoins the FSB, and the building's restoration is completed.
An architectural firm that specializes in restoring old buildings is currently assessing the condition of the FSB and its surrounding structures. Architectural Resources Group of San Francisco is under contract to recommend needed repairs and to produce architectural drawings to accomplish the work. CSPA is paying for this study.
Although the study is still preliminary, the focus of the work is restoring the exterior structural integrity. Specifically, restoring functionality to windows, replacing rotting wood and preparing all surfaces for painting will ensure that the final coats of paint will be able to protect this structure for the coming years.
The result of this study will make the restoration project "shovel ready" and substantially improve the project's chances of being funded in the state's next budget cycle.
We will continue to report on the outcome of the study and the projects as they progress through funding and to completion.