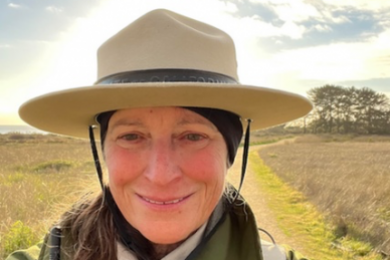 Susan Blake currently serves as a California State Parks Interpreter at Año Nuevo State Park and as the Coordinator of its Docent Program.  She arrived in the summer of 2021 following what can only be described as a dramatic and terrifying end to her 14 years stint as a Park Aide, Seasonal Interpreter and then Interpreter at Big Basin State Park.  While working at Big Basin, she fell in love with interpreting nature to the public and with supporting docents while she took numerous classes to enhance her skills and knowledge.  She also had served briefly at Año Nuevo State Park as a Park Aide, and prior to that she spent over a decade working at the Monterey Bay Aquarium.  
Big Basin closed for many months due to Covid, but reopened (briefly!) in July 2020.  The beloved park had been sorely missed, and by August 2020 it was jam-packed with visitors eager to explore the park and with long lines of cars waiting to get in.  But just after midnight on August 16th, Susan was awakened by a spectacular dry thunder and lightning storm coming onshore.  Within hours, thick smoke from fires sparked by the lightning strikes began to fill the park.  Park staff were quickly ordered to close the trail to Berry Creek.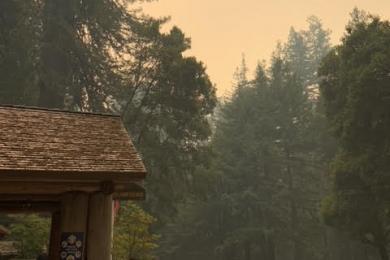 The beginning of the CZU Lightning Complex Fire had arrived, although the extent and severity of it were not fully grasped until the afternoon of August 18th.  Susan and her husband had just driven down to Seacliff State Park to escape the heat and smoke when they received notification that Big Basin and their Sky Meadow residence were to be evacuated immediately due to rapid advances of the fire.  They frantically rushed back to their trailer to rescue their cats and snatch a few personal items. 
As they grabbed the cats a ranger yelled at them to get out immediately.  When Susan asked, "where is the fire?", she was totally shocked when the ranger pointed to flames 20 yards away! Thankfully, Susan and her human and animal family all escaped unharmed. Despite best efforts by Susan and many others, treasured artifacts and structures, including Susan's home and the homes of other park staff, were lost forever in the fire that burned over 86,000 acres including roughly 97% of Big Basin. If you want to read more about the history of Big Basin, California's oldest state park, or Susan's dramatic account of fleeing the fire with her husband and beloved pets, check out the excellent book by Traci Bliss titled "Big Basin Redwood Forest".  The book also highlights the significant, but little known, role of women in the history of Big Basin.
Susan expressed her appreciation for the many ways in which Coastside State Parks Association (CSPA) supports regional parks and Año Nuevo State Park in particular.  CSPA provides significant contributions to the docent program including their training materials and uniforms.  CSPA is also committed to replacing/upgrading the "Staging Area" where visitors are met by docents or park staff and share knowledge and answer questions. This is also the place where the docents meet winter visitors as they begin their guided tour  to see the elephant seals during their breeding season between December 15th and the end of March.  CSPA has also been involved in a range of projects ranging from ADA Boardwalks to installation of telescopes to the recently installed bridges to North Point which make this spectacular part of the park accessible during a greater portion of the year. Susan also mentioned that she loves the great selections in the bookstore which is operated by CSPA and raises funds for our parks.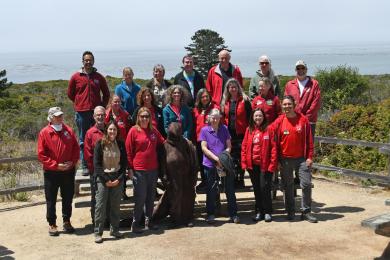 Susan also shared that she loves working with the docents and learning about their different interests, backgrounds and experiences, and sharing the appreciation of Año Nuevo.  Currently there are approximately 140 active docents.  Susan recently trained 23 new docents, and informed us that the next docent training program at Año Nuevo will start in October, with interviews in September. If you are interested, you can fill out the application here:
MyImpactPage - Application Form - Año Nuevo SP & Butano SP (betterimpact.com) and/or feel free to email her directly at Susan.Blake@parks.ca.gov with any questions.  
Susan explained that if you join the docent program, you'll be assigned a mentor who will work with you over the winter season as you observe walks, learn about Año Nuevo and the elephant seals and complete some assignments. Then, in spring, there will be in-class docent training on a broad range of related park topics such as the geology, archaeology, indigenous history, etc. Overall, new docents will be very well prepared to provide an outstanding experience to the thousands of visitors that come to Año Nuevo from around the US and the world.
In closing, Susan expressed that she is very happy to be back at Año Nuevo.  After surviving the fire and losing her home, she is incredibly grateful to be working at such a beautiful park, filled with fascinating elephant seals and great staff and docents along with the many visitors.