While eager children scurried from booth to booth to collect stamps to earn a personalized lighthouse button, California Department of Parks and Recreation Director Armando Quintero kicked off the event with a review of the history and importance of the lighthouse, and we learned that the lighthouse tower's historic restoration contract is out to bid. State Senator Josh Becker presented the State Senate's Certificate of Recognition of the Light Station to Jordan Burgess, State Parks' Deputy District Superintendent, and Assemblymember Marc Berman cited the plans and progress of the park.
An overflow crowd raptly listened to author JoAnn Semones moderate a discussion among descendents of a shipwreck victim and past lightkeepers. Crowds remained as darkness settled in and a rare lighting of the great 1,000 lens Fresnel lamp lit up the Fog Signal Building, spreading rainbow-like diffractions on the inside walls. 
Tower Restoration Plans
With news that the tower restoration is out to bid, we are pleased that forward momentum continues. The leadership role for the Pigeon Point Light Station State Historic Park restoration is with California State Parks. Supporting the project is the Coastside State Parks Association, Friends of Santa Cruz State Parks, California State Parks Foundation and the Peninsula Open Space Trust. An Advisory Committee composed of members from these groups has been formed to oversee the progress of the restoration. 
"This collaboration funded and produced essential preparations including blueprints and crucial repairs necessary to make the project shovel ready," Julie Barrow, Special Projects Coordinator for Pigeon Point Light Station pointed out. "A special part of California's maritime history is being preserved with the help of these partner organizations, individual donors and volunteers. We look forward to the light shining for another 150 years." 
And while we can't describe the project timeline as yet, we do know that it will become clearer once a contractor has been selected and the work begins.  To be realistic, we are probably still two years +/- away from the project's completion.
New Local book for sale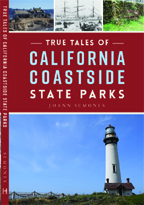 Maritime author and historian JoAnn Semones was on hand to sign copies of her new book, True Tales of California Coastside State Parks. Published by The History Press, the book focuses on several key historic personalities of Coastside state parks. Some of the people are forgotten pioneers and several of the parks are lesser known than others. Each chapter highlights unusual characters as well as unique industries that helped form our stunning Coastside. 
"Inside these pages, you will discover coastal parks, beaches, wildlife preserves, an iconic lighthouse and a concrete ship," she revealed. "You will encounter land barons and speculators, builders, businessmen and lumbermen, naturalists, dairy farmers and ranchers, even a freedom fighter."    
The book was created after the horrific lightning fire of August 2020 which swept through San Mateo and Santa Cruz counties. As a long time Coastside resident and a dedicated champion of California State Parks, JoAnn hopes this book offers an opportunity to reflect upon not only the beauty of our parks but their history.
Be sure to pick up a copy at any of our three park stores – Año Nuevo State Park, Pigeon Point Light Station SHP or Half Moon Bay State Beach.